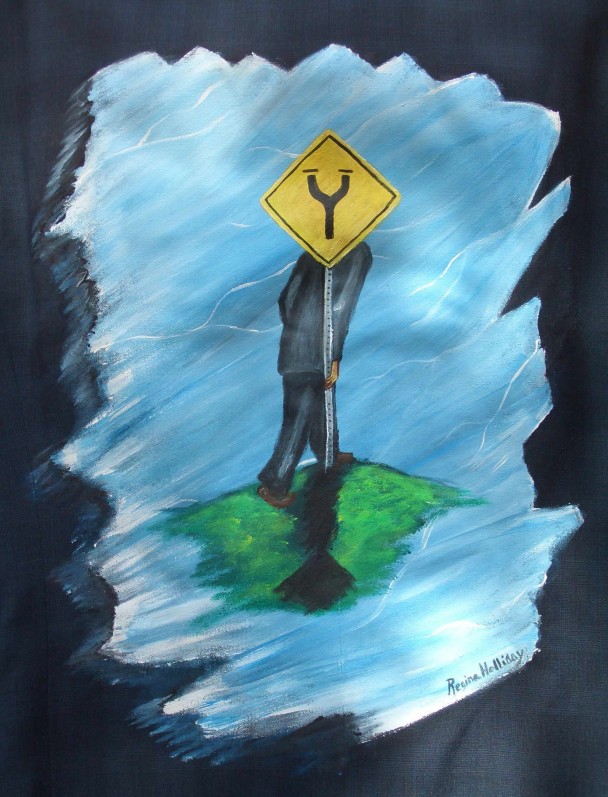 Part 1
I'm now a member of Regina Holliday's Walking Gallery. Regina painted this image for my nifty navy blue patterned thrift store jacket. We didn't even talk; she'd evidently read and seen enough of me to get to my message's, and my own, core. I choked up when I first saw this, when Regina handed it to me on a Friday evening at the start of the 2012 Partnership With Patients conference in Kansas City, MO, USA.
Regina called it "The End Ahead." Maybe she still does. I call it "Be Ahead of All Parting," the lead phrase of Rainer Maria Rilke's Sonnet II: XIII from his 20th century masterwork The Sonnets To Orpheus.
You don't commission a Walking Gallery jacket in the conventional sense. But you do request one (having read up on and agreed to the Gallery's purpose). With some trepidation I sent a note with the jacket (itself quite a find; it's hard to find a long-armed halfway decent men's sportcoat in a thrift store) asking Regina to go "long on metaphor and short on human figures", and also expressing my dislike of sharp borders and like for rough edges. I'm finicky about the art in my life, and all the more so about art I will end up wearing.
She so nailed every aspect of this:
• The field: is it the metaphorical glass (see my HCA keynote video) or an ice slab from Eldorado Canyon State Park's South Boulder Creek, the day my sister called to say that she and Dad decided, after three weeks, to unplug Mom? Which side of the ice/glass is he (me) on?
• The dissociated yet vibrantly alive green hilltop; the lonely aspect, to date, of this work
• The fundamental choice sign: a peaceful or non-peaceful demise; either is an ending (the bars at the end of each fork refer to some countries' dead end road signage)
• Is he (me) dragging the sign, planting it, steadying himself with it? Is it a stake, or a staff?
Just…thank you, Regina. You help make me brave again.

Part 2
So, attending the Partnership With Patients conference (Twitter hashtag #Cinderblocks), at the Cerner Riverport center in KC MO USA. You couldn't have made up either the location (an isolated abandoned riverside casino) or the emergence from that river (the Missouri) halfway though the event of Australian Dave Cornwaite on his 1000 mile swim to raise support for breast cancer.
Our small, 70-something crowd is big on action. We're all deeply involved in advancing citizen autonomy and medical system accountability. Without boring this blog readers with a list of people I either caught up with again or connected with for the first time, suffice it to say that this gathering crossed a range of borders, with participants from many walks: lay people, clergy, clinical medicine, government, business. We presented our work to one another and spent the last day in an Unconference in which we defined our own agenda within half an hour and filled the day advancing it.
Of primary importance is the shape PWP intends to take going forward as we, somehow, bit by bit, make our presence known, seen, and felt throughout this land. For instance, some time was devoted to mulling over how we identify, select, fund, and represent one another when one of our presence would be useful at some far-flug event or gathering.
Cerner—the company that hosted us, providing the casino *and* a complete start to finish IT team for speaker backdrop deck presentation (otherwise known as "powerpoints" but more often than not developed using Apple's Keynote app) plus videotaping every event in the main hall—provided an eye-opening glimpse into the possible future of health treatment with electronic medical records tied into every phase of health delivery: initial contact, loved one's contact, appointmenting (yes I'll make a verb of that), staffing, treating. Their education facility was nothing less than world fair class, including flatscreen TVs mounted sideways as if enormous iPhones, driven by iPads in real time.
Preparing for PWP fertilized me (I copresented, with Ann Becker-Shutte, an end of life session and offered up an early, horribly yellow-colored Ignite-style shortie on my new Dying Terms Matrix). These several weeks post-PWP have been an explosion at least as fertile as when I wrote Notes from the Waiting Room. Probably more so, as my work gains focus. Plus, now that I'm no longer an Ignite spark form virgin, I've applied for, and won — by internet voting acclaim, a first for me — a speaking slot at the forthcoming October 2012 Ignite Denver show, where if things work out, I'll overlay the new Windrum's Never Say Die Rap atop the first 8, introductory, slides in a totally revised and redrawn Dying Matrix deck.
Whoever woulda thunk (proclaimed in meter, with DJBuzzword's Danger Zone loop running as I write this…cos end of life needs a better groove. And, I've got a rap for that!