When writing Notes and Estate, I decided early on to limit the amount of personal information in the books. I wanted to keep the focus of an increasingly deep project on what was most important—the why and how of managing hospitalizations, end-of-life choices, and estate settlement. My parents' appearances therein serve only these purposes; hence, their portrayals are situationally narrow and lack personal dimension. Occasionally I'm asked for more information about my parents, to provide a sense of who they were. Here you go: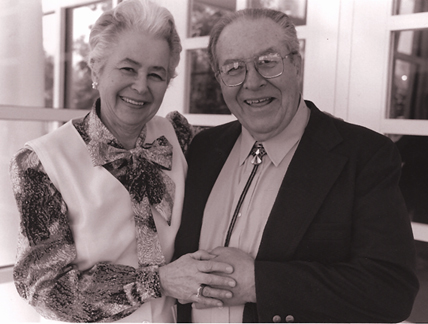 Morton Greenberg and Ruth Hanna Logue met and married in their early twenties, a typical mid-20th century farm-boy turned New York City World War II army guy, and a Kentucky-born turned Brooklyn girl. Their families had emigrated from eastern Europe (Romania, Austria, Latvia, Lithuania). In an on-the-spot Ellils Island shortening of the patriarch's multi-syllabic name, "Log" was given by the immigration officer my maternal grandfather encountered upon entering the country. He subsequently added "ue" on the end so it wouldn't be so short (pronouned "Lohg").
After the war, at the urging of his bossy mother who lived next door to the young family, Dad cut short full-time college upon becoming a father to my sister (I was three years away). A bad choice; finishing his electrical engineering degree as a working man plagued him, and impacted his earnings, for decades (City College of New York kept upping the ante; finally one year he pounded on the Dean's desk demanding his degree—and received it, long after he needed it and long after he could have recouped the lost earnings that not having that degree cost him).
Dad was a sharp one, elegantly solving engineering problems during afternoon naps (on the job :). He was a Radio Shack geek—when Radio Shack was only, and completely, the epitomy of geekdom. Highly intellectual, he was ineffectual in dealing with his highstrung son.
The folks contemplated, and turned down, the offer of an engineering gig in Saudi Arabia (I sometimes wonder what would have become of us all had Dad taken the job). The family moved from Long Island to Sarasota, Florida for what turned out to be a short time (seven or eight years), during which Dad and his brother-in-law operated an aluminum railing business (which became the bane of several next-generation cousins). Mom did part-time bookkeeping. By all accounts a gracious woman, she was also captive to societal command-control, always framing her outlook to conform with protocol.
Circa 1970 (after their second child—me—left home for college) they moved west from the east coast and purchased a Sir Speedy "instant" printing shop in Denver, Colorado at Colfax and Ivanhoe streets. Together they worked it hard for 15 years, rising from indebtedness to a self-made, if modest, retirement, beginning in 1985, on about a zillion 100-sheet orders of single-sided, black ink, white 20# bond. This was made possible through then-new technology: a camera that made paper offset printing plates (to printing what Polaroids were to pictures), and the ABDick printing press, a cute little press, about the size and shape of a USPS mailbox, that might be described as that printing era's Volkswagen. Occasionally Dad would need to run the press when a pressman took sick or the shop got particularly busy. Despite his respect for machines, he loathed running presses. We gave him a wide berth during these interludes. (Our best pressman would get the two presses running different types of jobs in parallel and bop around back there as they percussively spewed paper.)
I worked with them for five years, during which time they launched a second shop around the corner, a trade thermography (raised printing via melted plastic powder) shop they named ThermoPrint. After my employment culminated in learning typesetting and layout, I launched a graphic design career from my experiences and the stores' resources (I'd typeset after hours, saving appreciable amounts of startup money). They had offered me the managership, but I declined, hating the artificial deadline underpinning of the instant printing business…this was about 1980, well prior to the advent of personal computers and WYSIWYG desktop publishing.
During this period of customer-service, Dad changed. He was a hoot, actually. He printed buttons saying "How about a Quickie? (quick printing, it was called) and gleefully approached all who entered, male or female, young or old, with a button and the question, "would you like a quickie?" I don't know how he pulled it off (pun acknowledged) but virtually everyone he approached took it in stride; I never observed any lasting offense taken.
Years later I asked him how he turned his demeanor around and his reply was simple, cryptic, and profound: "I changed my face." Conceived and spoken by an engineer who somehow found, and applied, a sort of real-life poetry despite his mechanistic approach that enabled the change.
One season my folks offered free resumes; it was another Colorado recession and the Governor made noises about people helping one another to pull through. They charged nothing and hence collected no sales tax. The State assessed them on the cumulative "disparity," which the assessors claimed was equal to the tax that would have been charged at full retail pricing (while also saying that had the store charged resume recipients a penny, no taxes would have been due). Mom was outraged and went public to the media (all this was definitely beyond the bounds of protocol). Local TV jumped on the story and absurdity. The assessors backed off shame-facedly due to the ensuing inquiry by several Denver city council members and Colorado legislators.
Dad brought his engineering mindset to store operations and was known in the field as the owner who achieved the highest profit percentage from a quick print shop. The trade eagerly sought his expertise and asked him repeatedly to speak about these matters; he always declined.
Mom brought her accounting accumen to store operations. One state auditor spent days there; when Mom asked why, her reply was, "your books are too perfect and I've been looking for signs of crimminal activity—and can't find any."
Despite Dad's public demeanor, he remained a classic Type-A type, and literally the day after fulfilling his contractual training obligation to the stores' buyer, he suffered a heart attack, required electro-shock resuscitation (the "paddles," which Mom and I witnessed), and underwent a double cardiac bypass. Twenty years later, I began refering to this as the start of nineteen subsequent years of heroicism.
During her 30s and 40s, Mom was a contester. She wrote limericks and entered last lines for ersatz promotional copy. She also baked, and placed fairly high in several chicken-cooking contests—her Frosted Chicken won 3rd place in a Del Marva competition, and remained a family favorite. In her later years she took to writing childrens stories and occasionally giving readings (though she never sought publishing). Neither an inquisitive nor a brave soul, she quietly retreated from worldly matters throughout her 70s, while never losing the social grace for which she was well-appreciated—and which masked her withdrawal.
She died first, catching all in our patient-family by surprise at the time, although Dad's subsequent, belated examination of their calendar showed that the majority of doctors' appointments were actually hers, not his. (Lesson to elders: set aside health assumptions; do a calendar check and tally all your doctor appointments to see who actually requires, and is receiving, the most treatment…adjust your thinking accordingly.) He ended his life as an outgoing person who would strike up conversations with absolutely anybody.
In all, they were modest, classic working-to-middle class representatives of mid-to-late 20th century America…second generation immigrants, the rural born and bred who migrated to, and thrived in, our urban centers.
Although ultimately appreciative, they remained somewhat bewildered with their son, even into their latest years.
My sister Judy is a retired newborn ICU nurse.