Windrum's Matrix of Dying Terms™
Bart Windrum's Matrix of Dying Terms significantly enhances end-of-life discourse with its precise vocabulary identifying today's dying realities. If widely adopted, the Matrix would advance our ability to talk about these realities, offering insight to policy makers, clinical providers, and citizens in our collective management of dying in America. — Jennifer Ballentine, MA, Executive Director, Life Quality Institute and co-author of Colorado's Medical Orders for Scope of Treatment legislation
---
What if we had no names for flowers, only the sole term 'flower'? How could we discuss their differences, state our preferences, or plan bouquets?
Our world has many flowers. And it has distinctly different ways of dying. Yet we've had but one non-euphemistic word for it: 'dying'. It's past time to supplement this sole term with new terminology that forecasts and describes the range of dying outcomes ahead of all of us. Windrum's Matrix of Dying Terms is a 21st century tool to help us to navigate our dying territory in this complex age. Windrum's Matrix introduces a range of names for distinctly different dying outcomes, bringing specificity to what heretofore has been a vague discussion, typified by statements like "I don't want to end up in the ICU, I just want to go home".
Matrix Introduction
These days numerous initiatives are surfacing and gaining media attention, encouraging us to fill out a living will and to talk with our families so as to make our end of life wishes known, and to assign one or more medical proxies through a legal document, the Durable Medical Power of Attorney. The implied message is that doing these things  will alone guarantee one's demise of choice, presumably peaceful. Unfortunately, the suggestion to execute a living will doesn't come with a warning label—which would caution that, as important as they are, living wills do not cause the range of everyday obstacles to peaceful dying to disappear.
These steps are vital to take (even though living wills are notoriously vague documents, that numbers of psychologists, doctors, and ethicists recognize their serious limitations, and that living wills are but one of a suite of 8–10 documents that only together comprise an advance directive safety net). While living wills are highly valuable for assessing our own orientation, in the everyday world they are only first steps and only of limited value under ideal circumstances where timing is fortuitous and all the cogs in our medical system's wheels mesh with perfect synchrony. This may occur from time to time, but don't expect it. But these initiatives are slowly helping to kickstart the discussion we all so desperately need to engage in, and it's a good thing.
Another aspect of peaceful dying that's growing in popularity is contemplative engagement. Buddhists have long engaged in a practice of imagining one's own death as a way to predispose oneself toward acceptance of it. Contemplative aging, a spiritually oriented citizen movement, suggests intra- and interpersonal awareness as a pathway toward peaceful dying. I agree. But again, as far as I've ascertained, leaders in these realms do not discuss, or suggest that their followers study, the range of everyday practical impediments that can wreak havoc on plans for peaceful dying.
So let's go deeper. To talk sensibly about the end of life we want, we need to know why so many deaths become train wrecks. There are reasons that we end up with prolonged, painful, angst-ridden demises despite all of us saying that we want to die in peace. I know: I lived through two of them, with and for the only parents I had, and was so affected by those six weeks' experiences that I vowed to deconstruct them in order to understand when, where, and why we failed—and to do what I can to bring my findings into the world. Because I don't ever want to fail at end of life again. And there's no need for your patient-family to fail even once.
Those emotionally charged experiences are the foundation on which all my work rests. As with my preceding work, Windrum's Matrix is neither emotional nor spiritual; it's practical. This is because I am certain that it's not possible to die AT peace emotionally and spiritually unless we die IN peace, where the ongoing circumstances of our demise are serene. Protecting and accomplishing that serenity requires vigilance based on a solid understanding of the practical impediments (which are well-known to providers, who generally don't discuss them publicly).
Thus, I introduce Windrum's Matrix of Dying Terms. The Matrix resulted from following a spontaneous question that arose in my mind: "since 21st century dying is so complex,why don't we have more words to describe all the places where we end up?" I decided to answer that question by formulating the names. Not naming varieties of dying after we come to know that varieties exist is like having no names for varieties of flowers, just the sole word 'flower' to refer to all of them…it's hugely indistinct.
New Terms of Engagement
Most people who first encounter Windrum's Matrix perceive it as complicated (I don't!). Yes, some time and thought is required to understand it. Once you do, the Matrix provides a range of natural terms with which to think, talk, choose, and act more clearly, in a real-life context, about the death you'd prefer to experience and the deaths you want to avoid. If you're like me you'll adopt the language (that's the point) and begin using it when discussing end of life matters.
Actually, it's not Windrum's Matrix that's complicated; life is. What's complex is that so many outcomes exist. What's complex are the range and severity of obstacles, defaults, errors, and denials that make so many crummy end-of-life outcomes the needless norm for millions of us in the United States and throughout the industrialized world.
Windrum's Matrix doesn't explain how we end up landing somewhere, it simply names each of those places. The Matrix may stimulate questions. That's good; finding the answers will serve you. At the least, understanding the Matrix may put you on guard. That's good too; you'll be better oriented toward making choices to support the deaths you and your loved ones want instead of inadvertently getting sucked into situations you've already vowed you don't want. Because extricating your family from those situations is a lot harder than getting sucked into them is (my book describes how we end up where we don't want to, and offers guidance for not ending up there).
The Seventeens
Windrum's Matrix introduces seventeen new terms for dying, which seems like a lot. Consider this: how many other sets of seventeen names do you know? seventeen family members, friends, colleagues, or customers; seventeen spices; seventeen models of cars; seventeen software properties; seventeen chemical elements; seventeen musical artists or athletes. You get the idea. And understanding the Matrix is not about memorizing its names; rather it's about realizing that the situations they represent exist as distinctly different dying outcomes that we can consciously aim for or aim away from.
All of us will end our lives in one of seventeen landings (as in, "where will you land?"). When we fail to die in peace it's because some of these situations simply do not lend themselves to peaceful dying; there's nothing serene about them, including the environments in which they unfold. Understanding how and why we land there is a different, involved conversation and educational pursuit. All Windrum's Matrix does is to name them so that we realize that all these outcomes exist, and to help us distinguish clearly between them.
Gameboard dancefloor view. Before formally delving into the Matrix, consider this metaphoric view of a gameboard or dancefloor. We land on a square as we would on a gameboard during the last round, or a dance floor when the music stops. The different typefaces convey something of each landing's essence. (note: this older graphic shows sixteen landings)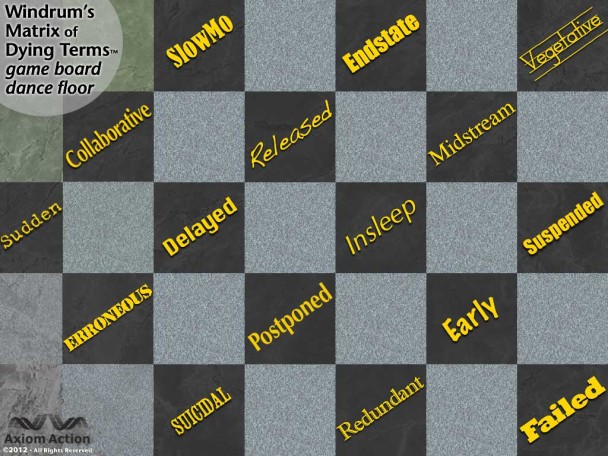 ---
Windrum's Matrix of Dying Terms™
How patient-families experience death depends upon the dying situations we move through and finally land in at our end. That end could come sooner or later, and how we experience dying is related to how long our demise takes—things can drag on and the number, intensity, and intrusiveness of medical interventions typically grow over time.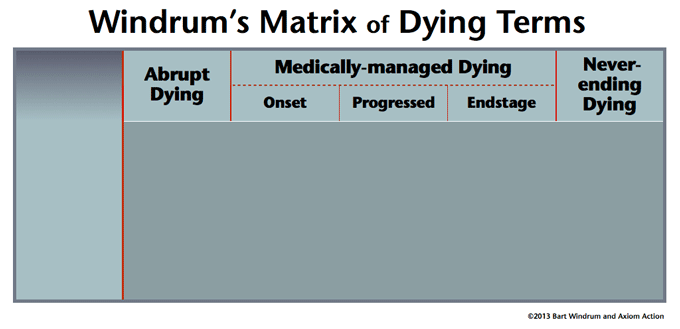 Time 
Medically-managed Dying
 is tracked by how far from or close to death one is.
Onset
 means at and right after initial terminal diagnosis ('terminal' generally means that one or two doctors do not expect you to be alive six months out; I include self-assessment as a valid claim of terminality).
Progressed
 means some weeks or months have passed and you're declining.
Endstage
means death is imminent. Death can be caused by other things than disease; I label these causes 
Abrupt
. Abrupt can mean either sudden, or precipitous: instigating a decline that otherwise would not have occurred. Death can take so long (many years) as to seem 
Never-ending
. Death can also never finally occur, as with those suspended in a persistent vegetative state, where peoples' bodies are maintained indefinitely via machinery and tubes.
.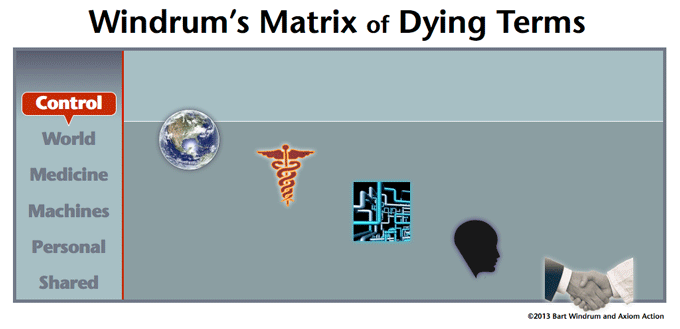 Control 
Something or someone always controls the situations in which we die and how we experience dying. I've identified five controlling entities: the 
World
; 
Medicine
; 
Machines
(life support technologies that represent a deeper medical enmeshment); 
we ourselves Personally
; and 
Shared
, by which I mean utilizing palliative medicine and hospice services starting from the onset or no later than the progressed period in order to fully utilize them and experience their full benefits.
.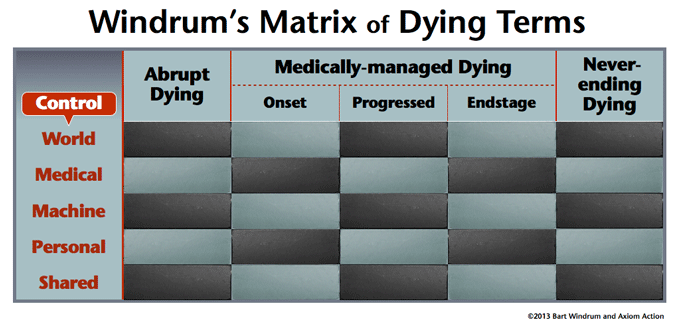 Landings The intersection of time and controls result in landings—distinct dying situations resulting from what transpires over time under a given control. The tiles in this picture reflect the game board/dancefloor metaphor.
Landing names I strove to identify neutral names for each landing—doing so took five tries as I worked through different language models (it's very easy to default to judgmental labels, which usually became repetitive). Here are the landing name explanations:
Sudden Dying: due to worldly causes ("acts of god", accident, homicide)
Insleep Dying: the holy grail many people say they desire
SlowMotion Dying: deaths that take so many months to years as to seem like dying never ends
Erroneous Dying: related to deaths precipitated by medical error regardless of how long they take to play out
Early, Midstream, Endstate Dying: mainstream medical disease management
Emergency Room Dying: dying in the ER (including under resuscitation attempt)
Delayed Dying: the moment one is placed on life-sustaining machinery, dying is delayed
Suspended Dying: refers to being suspended between two states, living and dying, for a moderate period of time (the duration definition may differ for different people)
Repetitive Dying: if sustained on life-support machinery for a long period of time, the equipment essentially resuscitates again and again, moment to moment
Vegetative Dying: persistent vegitative state
Suicidal Dying
: the self-taking of a viable life when not terminal (see
James Leonard Park's work
which, among other things, parses various types of suicide)
Released and Postponed Dying: refer to aid in dying at either an onset or progressed interval after terminal diagnosis
Failed Dying
: if one who ascribes to and desires self-directed or aided dying waits too long and cannot either effect or direct that, one has failed
Collaborative Dying
: dying having utilized the range of humane medical options available (Slow Medicine, palliation, hospice)
.
This is the complete Windrum's Matrix of Dying Terms with a legal and ethical color overlay. Green means that the situation experienced is legal and generally considered ethical even if the outcome is horrendous. Gray means that the situation experienced is generally considered unethical, is illegal, or both (exceptions will be found in jurisdictions with Death With Dignity or physician-assised-dying statutes). Blended landings may be ambiguous or may be assessed either way depending upon circumstances (suicide is no longer illegal in many jurisdictions; wink-nod euthanasia does occur; physician-aided dying becoming legal in more places).
---
Acknowledgements Thanks to ePatient Dave deBronkart for sharing his process when endeavoring to understand an early Matrix with little prior explanation, for making substantial suggestions for layout improvement based on his expertise with data, and for pointing out that the absence of values in spreadsheets represents meaningful data. Dave also suggested branding ("Windrum's Matrix"). Thanks to Jennifer Ballentine for pointing out that dying within hospice has a place within the Matrix. Thanks to James Leonard Park for suggesting replacing "indeterminate" with "suspended", a more universally understandable term. Note: "indeterminate" comes from Sharon Kaufman's "…And a Time to Die: How American Hospitals Shape the End of Life." Thanks to Katy Butler for suggesting the addition of Emergency Room dying as an abrupt landing. Bart Windrum